Taking Care of My Man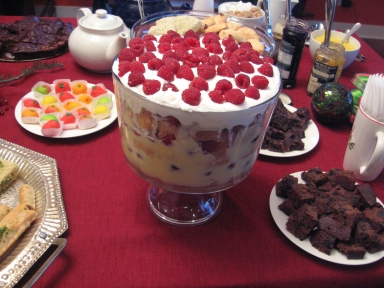 My partner's mother, Ann, opened her home to us today, allowing us to have a holiday brunch for our friends. I particularly appreciated that Ann not only ran out half an hour before the party to pick up the whipping cream I'd forgotten (to top the trifle), not only pulled out all kinds of Christmas mugs and serving platters for our use, not only carved the ham, but also helped with all the cleaning afterwards.
I particularly appreciated all her generous labor since she also had to go in to work this evening to do some extra holiday tasks. Ann left her husband, brother-in-law (visiting for the holidays) and son behind, noting that there were plenty of leftovers for them to eat for dinner. Kevin's dad, Ron, can cook a few dishes (his baba ghanoush is superb), but for the most part, Ann does the cooking in the house, putting a hot dinner on the table most nights for forty years and counting.
I don't know if it was Ann's spirit inspiring me, but even after cooking and serving and cleaning up after a big brunch party, I found myself oddly reluctant to let the menfolk just nibble cold leftovers from the fridge. They're fully capable of doing so, of course, but I had a little time (toddler was in a good mood, amusing herself), so I ended up poking through the fridge and pantry, finding leftover cooked chicken breast, cooked rice, red onion, apples, walnuts, cranberries, chicken broth, and some bacon that we hadn't ended up needing for brunch. Half an hour later, we had a nice chicken, cranberry and rice dish, accompanied by apples sauteed with walnuts and a bit of bacon. I admit, I felt a little smug that I managed to make a good meal out of such random ingredients. The men were complimentary, and when I came back from putting the toddler to sleep, I found that they'd polished it all off. Ah, satisfaction.
At home, Kevin and I are as egalitarian as any good feminist could wish -- we both work, we split childcare, and we alternate weeks feeding the family. One week, he'll plan meals, shop, and cook -- the next week, I will. We both like cooking, but we both also appreciate a break from the necessity of it, so alternating works out well for us. It surprised me, that I felt such a strong desire to feed the menfolk a hot meal, the way Ann would have if she'd had the opportunity. Is that reactionary of me? A return to the old pre-feminist days, when it was always the woman's job to take care of her man?
I don't think I have to hand in my feminist credentials. Oh, the pleasure's a little gendered, I admit, but harmlessly, I think. It's the same feeling I get when I knit Kevin socks -- a small domestic pleasure in 'taking care of my man' that is at least partly motivated by amusement -- it's funny to be an old-fashioned woman for a little while. Funny in part because it's pure chance that I ended up with a man at all -- I'm bi, and could have easily partnered with a woman instead.
Mostly it's funny because I know this extra labor entirely optional on my part -- thank god, my man can buy his own socks, and he can make his own dinner. And every other week, he can also make mine.
This is an original post to Chicago Moms Blog.